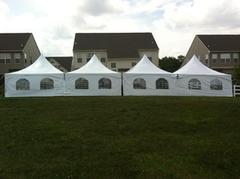 20x80 Frame Tent Package for 96 People With (12) wooden Tables and 96 chairs & DANCE FLOOR


Please call to reserve this item.


20x 80 High Peak Frame Tent For 96 People (12) Round Tables 96 Folding Chairs + 12x12 Dance Floor. (Tent Can Be Customized to a L or T Shape) Please Call To Reserve.